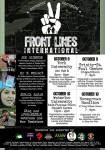 OTR will be involved in touring with Front Lines Internationa Oct. 7th to 14th.
Veteran and Afghan peace activists are organizing a series of events in the Greater Toronto Area October 7 – 14, commemorating the 12 year anniversary of the U.S.-led NATO invasion of Afghanistan. The tour marks the launch of a new initiative called "Front Lines International", which "connects and strengthens the front line voices of war across borders, cultures and generations."
"The public in all of our countries—Canada, the U.S. and Britain—are constantly berated with notions of the War on Terror that are, at best, inaccurate," says project participant Lt Cpl Joe Glenton, former British military, Afghanistan veteran, and author of the new book, Soldier Box (Verso, 2013). Glenton will be in Canada from London, England for the duration of the tour.
"As a soldier on the ground in places like Afghanistan, I have witnessed both the human cost to the Afghan people, and the toll taken on military service personnel and their families, who are lied to, exploited, and then cast aside for the sake of the war's duration." (more…)