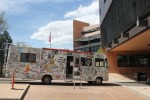 We rode in the Cinco de Mayo parade on Saturday. It was only half the size as last year and sadly, upon reaching the park not too much happening to engage the people. Many of the participants just left. Having music outside and refreshments along with things for the kids to do, would have been really nice. Apparently something starts at 1pm but from 11 to 1 nothing, unless it was inside the El Centro building.    We sat for a bit and while parked on the street, John found us and gave us his take on what is happening (or not happening) on the east side. He shared what he'd like to see and who the main people who he felt were those who helped the east side.
We left El Centro de Sol to pick up some potato salad for the potluck at noon. Parked on 4th St. we went to visit Double J. Meats and owner Joe who came out to see the "V" and our newly painted canvas.   He knew Glen Burke and was thrilled to hear what we're doing on and for the east side.  He said he would attend the meeting on the 6th where discussions will be held about revitalizing 4th St.
We arrived in Mineral Palace Park where we attended the Peace Picnic Sponsored by the Gandhi Peace Foundation:  Doug Gale, MaryAnn Roldan, Patrick Hurley, Steve Parke, Neema Caughran.