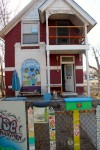 Thank you to Loretta Sword for covering our story and helping make our next journey a success.   We're in the process of taking an 100 year old house and turning it into a Music & Art Center for the kids, big and small!
It's been 18 months of hard work, dedication, perseverance and stretching dollars.   The original Li'l Red House is now 95% completed and ready to greet the kids and show them life can be about fun and creativity too.  We're always looking for volunteers, music, art, clerical and labor.  Be part of a team who believes the programs schools are cutting are perhaps the most important.   Thank you to everyone and every company who helped make this first house possible.
Please come visit us and have a tour!
Check out the Chieftain articles here:
Article #1 :  Pueblo House & Occupy the Roads
Article #2 : Li'l Stone House and Music/Art Center
The houses will not only have creative venues but will encourage healthy eating and cooking classes.  Our garden will be used to help educated the neighbors and anyone who wishes to learn about food, enjoy fresh produce and educate kids on the benefit of eating healthy.  We have chefs willing to teach once we're ready.