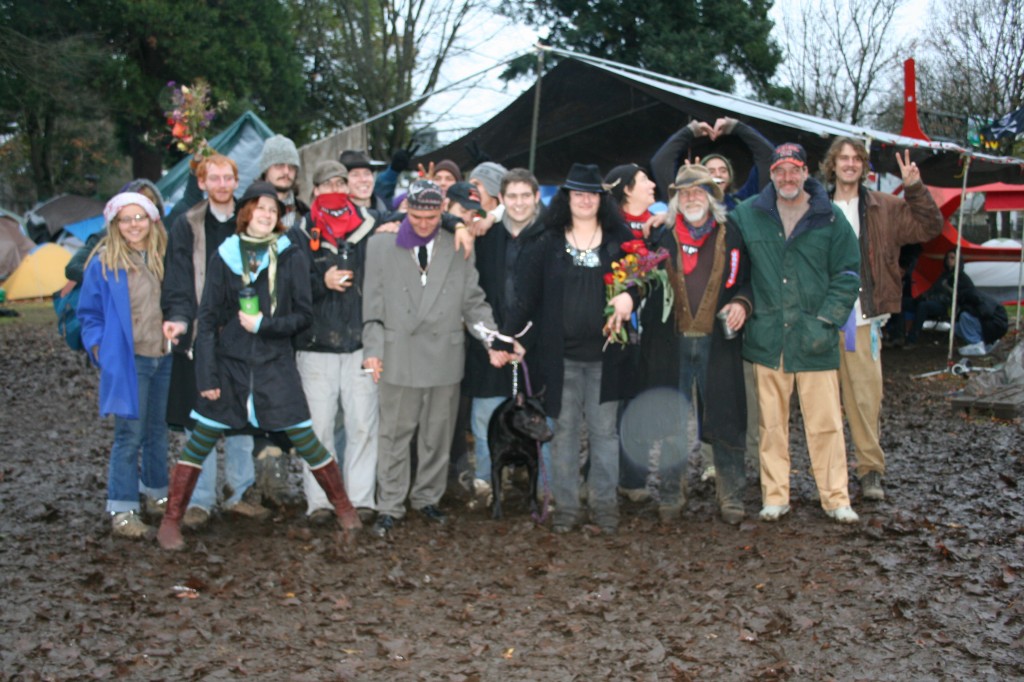 Keith and Fallen Angel get married —- Pirate Style with 99% onlookers______________________________
Interviews we gathered through the Occupy Eugene Camp:
Friday, November 25th, 2011
Excerpts of Interactive dialogue with Willie, of Occupy Eugene
"We have to learn from the fallen ones… Were here to make things better…"
"Our representatives are there to support us, to speak on our behalf. They are there to do what we ask them to."
"Occupy is not something you do; Not getting a sign and parading around the streets. Occupy is something you get inside of you, that is not broken when you go through hard times.  It's in here (points to his head); within your mind. It's something that you can carry with you,  that becomes you."
When asked why he was participating in occupy Eugene, Willie Replied, " We have to do this for our children, who will be here long after us. The one percent keeps cutting down the trees and taking resources from the earth, selling them to China (and other countries). Once they are gone, there is no getting them back. Our great grandchildren will have to go to stores to buy a pack of oxygen and what happens when you don't have the money to purchase oxygen? "
  Willie was making obvious parallels to water privatization, and the sale of water rights, by our country to multi-national corporations, like Coke (who has exploited and taken the majority of water in impoverished countries to manufacture their product.)  He spoke of the sewage and toxic waste waters we pump into our rivers, poisoning the rivers of mothernature all across the earth. The lack of conscience and accountability we have for our own actions, and by those in power.
Here are several Anonymous quotes by people throughout the Eugene Occupy:
"There is a big value on family here. Everyone sticks up for one another."
" Though (some)people kinda treat this [Eugene's occupy] as a festie, they need to treat it more like a revolution."
"We need more people who don't trip over having a little bit of power."
"I'd like to see people get out of their comfort zone and see that this is life, and it's not scary.
People are not scary once you know their name. People are involving themselves. These people were homeless before this; We're just making it obvious."
"If your path leads you to happiness and peace, follow that path. If your path leads you to hate, get off that path and find a new road."
"We've all been through traumatic experiences, and were all healing whether emotionally, physically, or psychologically. As we go
through traumatic experiences, we gain wisdom from these experiences." "You can't change anything unless you can change yourself".
"Knowing the truth shall set you free".
When asked about the slow implementation of new ideas, Chumby responded, "There's so many things that could happen, but then it would negate the things that are going well already." He later responded, "There's no way to stop drama; its up to the individual basis to loose the ego and gain a communal balance." He also said people should be brought together by moral and music. He felt it was necessary to inform people about what occupy is really all about.
"The city spends millions of dollars to house people in the city jails. Just because someone does drugs does not mean they're not human beings.  One of our goals is to do what the city has failed to do. We don't want anyone in nylon tents over the winter. " – The motto of the engineering committee
"Justice delayed is justice denied." –Martian Luther King
"If this movement fails, it will be our fault, and not the communities. "
"We all need to be treated equal here. There's no hierarchy; we are all in this together."
"The young have dreams, while the old have visions. The old have had the experiences, and we
must use these experiences to help the youth before they hit rock bottom."
"We must help the younger generation by one on one communication."
"If you don't love peace, you'll not receive peace and love