Tour of Duty
Occupy The Roads has been dedicated to Educating People about the illegal incarceration of people for standing up against war. People like Private Bradley Manning who wanted to ensure the public knew what was going on in a war paid for by the taxpayers. A war that was based on lies and deception and one that has cost us, not only financially, but with great personal cost of human lives, our own here at home, and also those (many innocent) in other Countries.
This month we are touring with the "War Resisters" who've seen the devastation first hand and who now stand up to resist this unjust war.
Veterans and Afghans Unite for Peace with New Project, "Front Lines International"; Speaking Tour Exposes the Realities of the War on Terror
Veteran and Afghan peace activists are organizing a series of events in the Greater Toronto Area October 7 – 14, commemorating the 12 year anniversary of the U.S.-led NATO invasion of Afghanistan. The tour marks the launch of a new initiative called "Front Lines International", which "connects and strengthens the front line voices of war across borders, cultures and generations."
"The public in all of our countries—Canada, the U.S. and Britain are constantly berated with notions of the War on Terror that are, at best, inaccurate," says project participant Lt Cpl Joe Glenton, former British military, Afghanistan veteran, and author of the new book, Soldier Box (Verso, 2013). Glenton will be in Canada from London, England for the duration of the tour.
"As a soldier on the ground in places like Afghanistan, I have witnessed both the human cost to the Afghan people, and the toll taken on military service personnel and their families, who are lied to, exploited, and then cast aside for the sake of the war's duration."
Soldiers from American, British, and Canadian armies are participating in the tour. Mounting pressure on Canadian soldiers speaking out, however, has led to one Front Lines participant, a Canadian soldier and Afghanistan veteran, to speak only on grounds of anonymity.
Front Lines International presents the voices of "occupied" equally with "occupier"—that is, members of the Afghan and Iraqi communities side-by-side with soldiers who took part in those military operations.
"It is important for soldiers and Afghans to work together to show that opposition to war can come from variant perspectives," says Suraia Sahar, a Toronto-based Afghan peace activist and Front Lines tour panelist. "Front Lines works to develop trust between these different communities as much as we wish to speak out against war."
Tour stops are scheduled in Toronto, Hamilton, at York University and the University of Waterloo. Events have been organized in cooperation with the Afghan Students Associations (ASA) on these campuses as well as Wilfred Laurier University. The tour has the support of the York Federation of Students, Hamilton Coalition Against the War, and the Canadian Peace Alliance..
Glenton, Sahar and other panelists are available for interview upon request. Restrictions to time and location may apply.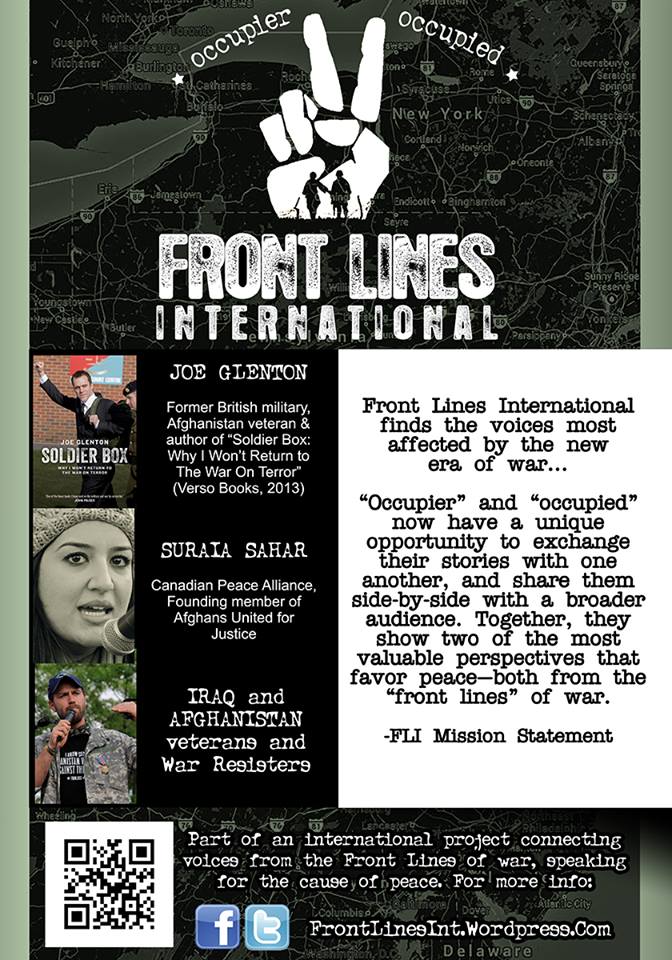 *********************
Last year we had on board with us, Micah Turner who was AWOL and fighting against the WARS! We met him at the Vietnam Veterans Memorial Plaza at 55 Water St. in NYC where he was speaking out about the atrocities of war and where sadly vets were arrested for being in the park after it "closed".
Later we toured with retired Philly Police Captain Ray Lewis on our "4 the People" tour.  Our visit to "School of Americas" was a reality check that torture training and assignation techniques are being taught, not only her but other Countries train here as well.  It was a sobering time.
DONATE to keep Occupy the Roads on the road championing the release of a true American Hero!
http://www.bradleymanning.org/activism/sign-the-justice-for-bradley-manning-petition-today