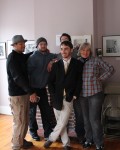 Feb. 18th
Managed to get in touch with Tim from Columbia and he invited us to this fabulous hall where they had just had a crowd of people celebrating the fact that they had succeeded in getting an ordinance overturned. Columbia officials decided that constitutional rights ended at 6 p.m. (their curfew). The people gathered in big crowds to make their voices heard and eventually were successful. Columbia is a blue dot in a very RED State. The city is very progressive and active.
After a couple hours with Brett and Tim we were well informed about the local politics. Stories were shared and many laughs were had last night on the "V". We think someone should run for congress in their district through USA Assembly (coming soon). People, regardless of party, realize that our Country is suffering and not functional right now. If everyone stood together to change it we could fire Congress and put in some 99%'rs with common sense to help fix it before all our liberties are taken away. Time to WAKE UP the people!
Feb. 19th
Today all of us were helping feed people @ Finlay Park with "Food not Bombs". Afterward we loaded up the "v" and went on a historical tour through town.
Imagine, some in this town are happy to fly the confederate flag! In 1999 they finally got the City to take it off the top of the State Capital Bldg. It didn't move far…they placed it on the front lawn in it's own little fenced area close to a statue of Pitchfork Pat Tillman (biggest racist ever).
Still, this was monumental for the city and people of color who found the flag offensive, symbolizing oppression in the civil rights era. Next, we visited Modjeska Monteith Simkins House (S. Carolina's Matriarch of Civil Rights activists). Her house was made into a Historic site and this is used for CarolinaPeace.org to teach Non-Violence classes.
There's no shortage of history here. To end the day we visited Nikki Haley (Governor's mansion) and took pictures of the "v" outside. Let's just say she's good friends with Sarah Palin, I say no more!
We are now headed for Charleston, SC!