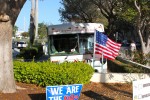 One the last standing encampments threaten takedown on Mar. 1st. As of 3am Mar 2nd the camp was still in place. We're sitting in the "V" in an empty parking lot in front of an empty building right next to the camp (threatening take down). Other cars here…no one got a ticket except us! Going to city Hall tomorrow to claim profiling and taking pictures with me. We are practicing our constitutional right as a protester, it just so happens to be a RV and not a tent.
But…. $45 must be an over night price :)?
There's a very committed group here carrying the message and bringing Occupy to the forefront. They challenge city council and use the local media to get their message across. Channel 12 news was sitting for some time yesterday thinking the camp would be broken up but it didn't happen. With their attention like a laser beam on the take down, they hardly cared that we had put on over 7000 miles visiting 58 occupy camps. Nope….just waiting (in a black suit in 90 degree weather) for the "take down".
We will continue to monitor today before heading to Miami tomorrow.