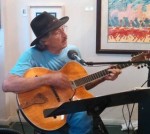 Our dear friend and musician Salvatore Pace has lost his battle with cancer and left us today (Mar. 13th).  We know he's in a better place and finally free of his pain.
Please send me any pictures you might have of special moments with Salvator so that we can add them to the "celebration of life" movie being produced.
Sal jamming with Mike Stapleton
This is from his son Tory….
My father, Salvatore Pace, passed away at 1:11 AM last night taking away the pain that consumed his body. Dad was an amazing person who left a mark on everyone he met. If you knew him, you know what I'm talking about. He was one of a kind, and the absolutely kindest person I've ever met.
His friend Janet Wilson has offered to put together a video and slideshow of his life for his memorial party. She needs photos from all parts of his life. If you have any, please send her a direct message or email her pictures to janetwilson79@gmail.com. Stay posted for a date and time for the party.
RIP Dad
Salvatores resume`