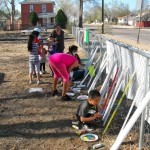 Best Cinco de Mayo…..
Alais Clay & Wandering Monks celebrated with us @ Pueblo House and performed live in a concert that was rock'n the neighborhood. Thank you for making this day very special. You inspire us to be the change! Your lyrics are so profound.
The kids had a great time and we thank everyone who came out.   We now have a picket fence ready to put across the front of our very special house for art & music and all the things that make us feel good in a world that has so much wrong….we are the change we want to see.
(more…)